Restaurant
Our Restaurant is open daily from 6 pm, and during weekends and season non-stop from 11 am.
The catering is devided in several spaces. You can dine in the ancient oak room, or in the 'Orangerie' with view on the park.
When the weather allows so, we serve on the covered terrace with barbecue, or on the terrace in the park.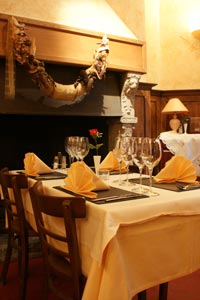 The theme is barbecue-restaurant, with free self-service saladbar during weekends and season.
In the hunting season, of course, there's a wide choice of wild preparations.

The hotel has an own vacuum-kitchen, and a qualified team, and offers you an assortment of maintained snacks, pizza & pasta, and gastronomic plates .
For groups there's possibility to organise a barbecue on the terrace, in this case we prepare you everything, and you grill yourself.
All menu and drink lists are mentionned correctly on this website. If you have special desires concerning diets, we can take care of .
Our accomodations are available for parties and occasions, please contact us for further information.
Our kitchen-chef is ancient student of the Bruges Hotelschool 'Ter Groene Poorte'.